I created this a couple of weeks ago for a friend on a horror board and figured I would share. 
http://www.MonsterHighChecklist.com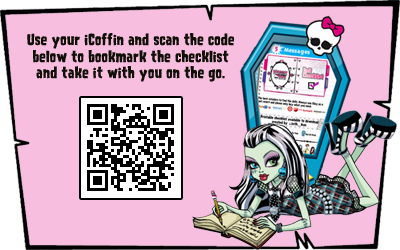 EDIT: 2/27 Added rumored dolls, Skulltimate Roller Maze, Dot Dead Gorgeous and Ghouls Rule.
EDIT: 5/27 Added all the exclusives coming out, kept the Dead Tired Wave 2 page but added them to the exclusives page as their is some info saying they are exclusive but aren't.
EDIT: 6/3 Did a huge UPC update
EDIT: 7/29 Added all the exclusives revealed at SDCC, working on adding Scaris and all the other lines. Also added a facebook should anyone want to like it. http://www.facebook.com/MonsterHighDollChecklist
EDIT: 9/13 Finally got the build your own wishlists up. You'll need Microsoft Word to use them, but you can add whatever dolls you want and print it or email it
EDIT: 10/26 Added the Ghouls Alive dolls since a better promo pic surfaced.  Also did a mass UPC update.
EDIT: 10/27 Added the Scaris Car, Cafe, Abbey's Bed, Frankie's Vanity, the Fashions and updated the Scaris dolls.
EDIT: 12/27 MonsterHighChecklist.com is now on Tumblr http://monsterhighchecklist.tumblr.com/ and I've also added the new Swim Line and Picture Day set.
EDIT: 2/14 
Added the Music dolls and 13 Wishes, seperated the exclusives to their own pages and added the possible Original Favorites
http://www.tattoomyheart.com/mhcheck/music.html
http://www.tattoomyheart.com/mhcheck/camcmc.html
http://www.tattoomyheart.com/mhcheck/13wishes.html
EDIT: 2/26 http://www.tattoomyheart.com/mhcheck/gno.html

NEED THE UPC CODES/BARCODE NUMBERS FOR THE FOLLOWING:
Headless Headmistress Bloodgood
Any new stuff that is showing up around the country
At the moment they are in alphabetical order and I'll be adding one file containing them all. I'll update as new things are added. There is also a cover sheet should anyone want to create a binder.

Whole Checklist
Cover Sheet

13 Wishes
Create-A-Monster Color Me Creepy
Create-A-Monster Lab
Create-A-Monster Wave 1
Create-A-Monster Wave 2
Create-A-Monster Wave 3
Classroom
Dance Class
Dot Dead Gorgeous
Dead Tired Wave 1
Dead Tired Wave 2
Dawn Of The Dance Wave 1
Dawn Of The Dance Wave 2
Fashions
Ghouls Alive
Ghouls Rule
Gloom Beach
Misc Dolls
Misc Exclusives
Music Festival
Picture Day
Playsets
Plush
Rare And Unreleased
Re-released
Skultimate RollerMaze
Scaris: City Of Frights
San Diego Comic Con Exclusives
Skull Shores
Sweet 1600
Swim 2012
Target Exclusives
Toys R Us Exclusives
WalMart Exclusives
Wave 1
Wave 2
Wave 3
Wave 4